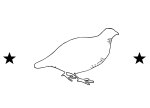 test kitchen:
quail breasts
The Perfect Finger Food to Feed a Crowd!
Small but mighty, boneless quail breasts are the sophisticated and oh-so-fun grown-up version of chicken nuggets. They're incredibly easy to cook and intensely flavorful with a satisfyingly crispy skin. Our Test Kitchen dynamic duo sauced and skewered, wrapped in nori and pan-fried 'til crispy, baked and broiled to uncover the absolute best ways to cook this convenient cut loaded with flavor.
read our results >

MORE THAN ORGANIC CHICKEN
SHENANDOAH VALLEY ORGANIC GOES ABOVE & BEYOND
We're not kidding with this chicken. It's the best we've ever tasted! Shenandoah Valley Organic is a co-op of USA family farmers who are revolutionizing poultry farming and elevating the quality of organic chicken. SVO goes above and beyond organic to uphold the highest standards of animal welfare. For us, this chicken checks all the boxes.
☑ Certified USDA Organic
☑ Certified Humane
☑ Verified by the Non-GMO Project
☑ Certified Halal
☑ Certified Gluten Free
☑ Free Range
☑ GAP Step 3
☑ No Antibiotics or Animal By-Products
☑ All Vegetarian Feed

PARTY PERFECT
FROM FINGER FOODS TO FULL ON FEASTS