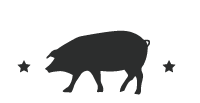 test kitchen:
INCREDIBLE IBERICO PORK
Three Uniquely Spanish Cuts
We took to the Test Kitchen to tackle three coveted Iberico pork cuts: presa, pluma and secreto. Luxuriously marbled and insanely flavorful, we uncover the best cooking methods and versatile ways to prepare each cut to showcase the incredible eating qualities.
"Iberico is the best pork I've ever worked with."
- Liv, staff chef
read our results >

The Best Grass-Fed Beef
in the World
Premium Quality That's Graded for Flavor
Silver Fern Farms (SFF) beef is raised year-round on lush, sweeping pastures in New Zealand. Farmers are dedicated to creating a peaceful and nourishing environment, which results in better tasting beef. From pasture to plate, Silver Fern Farms' care and dedication is present in every bite. Graded for pH — the top indicator of animal stress and ultimate eating quality — this is truly the best beef we've ever eaten.

SENSATIONAL FOR SUMMER
READY TO FIRE UP THE GRILL?