Liv S.
Manager, Business Analyst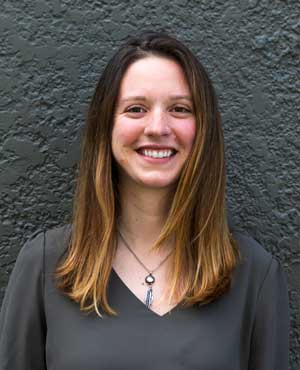 Liv loves talking to customers about cooking, ingredients and more. She's spent considerable time in Seattle restaurants. During photo shoots in the Marx Foods Test Kitchen, she assists Chef Becky with prep and recipe development. She's ready to bring that culinary experience to bear with suggestions & recipe ideas when you need them. Just ask!
Like a lot of the staff here at Marx Foods, Liv is obsessed with food, and not just eating it. "I love learning the history behind techniques and dishes, out of necessity and what was available. Food is my favorite lens to look at history and interactions through," she says.
This interest in food started at an early age. Her grandmother was Italian and an excellent cook, passing her skills on to Liv's mother. Her brother went to culinary school in Italy, and her dad loves to eat and provide critiques.
After high school, Liv attended the University of Washington for college, majoring in Art History. She also went to Seattle Culinary Academy. Before coming to Marx Foods, she worked as a cook at Café Barjot in Seattle's Capitol Hill neighborhood. "In a small kitchen you have to and get to do everything. We made everything from scratch and I got to do a lot of preservation and butchery, which is awesome."
In her spare time, Liv loves to hike, camp, and go to live music shows. Her goals for the future include learning guitar, climb to the summit of Mt. Rainier as well as hiking the mountain's Wonderland Trail.
Favorite Dishes:
Whatever seasonal veggies are really good, sautéed with some garlic and spice.
Best Place to Be (other than at the dinner table):
A mountain lake
Collection:
Cookbooks, too many.
Most unique consumption:
"I had a sandwich in Turkey that was sweetbreads wrapped in intestines. Then I got food poisoning. I'd try it again though."
Not-to-miss restaurant in Seattle:
Babirusa. "It's two blocks from my apartment and is so, so good."
Food Pet Peeves:
Bad tomatoes, red delicious apples, people taking any food philosophy to the extreme
Fun Cooking Disaster Story:
"Most years, on Christmas morning, my family will make eggs benedict. We have all had meltdowns because whoever decided to take over this year, positive that they knew more than everyone else, messed up making hollandaise or poaching the eggs properly. Though we all swear we've done it a million times before, lay off!"