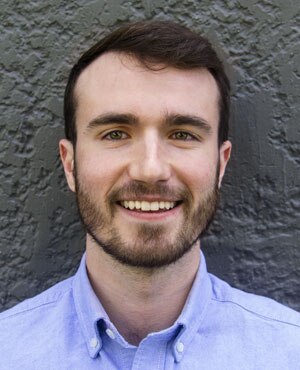 As our senior designer, Zach creates imagery to tell compelling stories. He photographs products and our Test Kitchen shoots, is videographer and a total Photoshop wizard.
Born and raised in North Carolina, Zach grew up with deep, savory, comforting flavors and what he calls "the 3 Bs" — BBQ, Biscuits, and Butter.
Growing up in the south, Zach learned the secret to perfect coleslaw, what to put in your collard greens, and holds an alliance to eastern-style BBQ. ("It's the clear frontrunner, in my opinion!")
His favorite thing about food is how it brings people together. "It's a wonderful way to spend time with the people you love. There's always a way to get everyone involved with preparing a meal."
Zach previously spent a summer working in a Mexican restaurant — "I learned the secret to the perfect guac and then I quit!" While in college, he worked at the UNC planetarium and the Daily Tar Heel (UNC's newspaper), and has worked for USA Today, the Seattle Times, and a carpet cleaning business where a black widow spider once crawled out of a rug he picked up for cleaning!
He spends his spare time drawing, playing video games, drinking beers that aren't IPAs, cooking, hiking and talking about zodiac signs. He's got a lot of adventurous goals including taking a road trip from Vancouver to California, touring every haunted place in Washington and uncovering all the speakeasies in Seattle. We'll raise a glass to that!
Favorite Dishes:
Biscuits and gravy, jambalaya, baked macaroni, and omelets stuffed with meat and veggies.
Favorite Fruit:
Peaches and pomegranates. "They're hard to eat but totally underrated."
Won't Eat:
Ketchup
Fun Fact:
He hates ketchup & no one will leave him alone about it.
Most Unique Consumption:
He eats the most chicken nuggets per capita in the Marx Foods office.
Collections:
Fun socks & bowties
Best Place to Be (Other than at the Dinner Table):
The beach! Preferably with an adult beverage in one hand & a book in the other.
Not-to-Miss Restaurant in Seattle:
Junebaby. "They recently won a James Beard award but I was a fan before that, so call me a hipster! They serve southern food, but it's gourmet."
One Food You Wish You Could Like, but Just Don't:
Ketchup. "UGH!"
Coffee/Tea Order:
A drip coffee with room or an iced coffee in the summer.
Fun Cooking Disaster Story:
While cooking gyoza in his college apartment he added a splash of water to the pan full of super-hot oil. "It started popping off like the 4th of July!" He had to use a pan as a shield so he could get the pan off the stove. He's just glad the oil and his gas stovetop didn't meet & burn down his kitchen.