Yasmeen S.
Marketing Assistant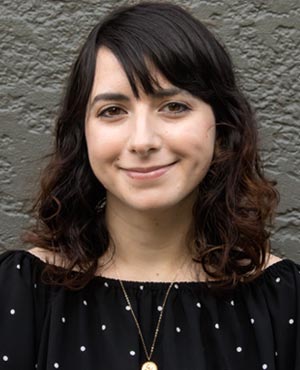 Yasmeen plays an integral role in the daily function of the marketing team. A resourceful researcher, she helps coordinate marketing initiatives and supports the marketing team with administrative tasks. She's responsible for making sure all of our printed marketing materials are pristine and is the master of machines that copy, collate, cut and fold.
Outside of the office, Yas is an avid cinephile and podcast listener, and always has new recommendations at the ready. (Her love of movies led her to work at Blockbuster — "'til the very end!" — and she hopes to start her own podcast one day.)
She's a writer (an article she wrote about women's healthcare was published on the NY Women's Spotlight website last year) and a hobbyist film photographer. She says she spends too much money having film developed, but it paid off last year when one of her photos won a contest at the MoPop! Museum and was on display for a month.
Yasmeen's father is Arabic and she grew up eating all the classics like hummus, tabbouleh, baba ganoush, falafel, kanafeh, za'atar, and everything was served with pita bread.
She loves cooking with spices, seasonings and sauces — especially if they bring some heat! She much prefers the long (and often messier) process of cooking over the convenience of the microwave. "I love taking over an hour and using five pans to make a delicious dish, rather than five minutes in the microwave for something sub-par."
Yas previously worked at a dog daycare in Seattle and loves that our office is dog-friendly so she can pet all the four-legged friends that come to work.
Favorite Dishes:
Italian food. "I truly heart pasta."
Favorite Fruit:
Pomegranates.
Favorite Vegetables:
Avocado, Brussels sprouts, potatoes.
Won't Eat:
Mayonnaise.
Food Pet Peeve:
When a dish is labeled spicy and it's not spicy at all.
Collections:
Records, film cameras and Polaroids and books ("I never finish them.")
Best Place to Be (other than at the dinner table):
Out dancing or at the beach. "I'm also big into party-planning and theme nights. I host 3-4 events for my friends each year and it's always the best place to be."
Not-to-miss restaurant in Seattle:
Spinasse. "Their pasta dishes are out of this world."
One Food You Wish You Could Like, but Just Don't:
Alfredo sauce. "I hold issue with most white sauces (ranch as well)."
Coffee/Tea Order:
Cold brew with 1-2 pumps of syrup, "if I'm feeling sweet."
Fun Cooking Disaster:
"I definitely burn food all the time by trying to multitask." But she still multitasks during cooking!