tracy k.
Marx Foods Operations Manager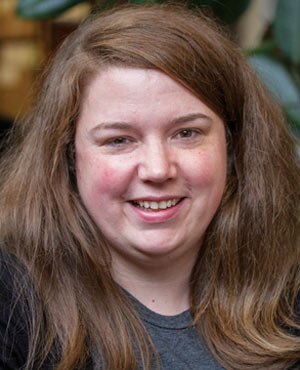 Tracy is the person at Marx Foods in charge of coordinating & processing orders in order to ensure they arrive on time. She takes customer care very seriously (while still having a great sense of humor) and works hard to ensure customers are happy.
Tracy comes from a long line of southern influenced home cooks, and grew up in Montana with parents who love the outdoors. As a result she has an appreciation for good comfort food, wild meats, game birds, fish and wild produce. Oh, and sweets. "I've been blessed with an insatiable sweet tooth," she says "I'll never turn down a cookie, candy, pastry, cake, etc."
Outside of the home, food has continued to be a big part of her life. While in Montana, Tracy worked in a grocery store as a produce clerk, as a cook in a small diner and as chef prep on a dude ranch. In her time off, Tracy plays the drums in a punk band, learns about astronomy, sews, makes jewelry and watches TV & movies. She's been playing the drums since she was 12 and has been in about 10 bands. Her dream is to someday live on an island with all of her best friends, stocked with their favorite foods & wired with cable and internet access.
Favorite Dishes:
Breakfast for Dinner, Chicken Pesto Linguini, Pheasant & Wild Rice
Most unique consumption:
A scorpion in the Marx Foods Test Kitchen
Collection:
Recently started collecting foxes, anything with a fox on it.
Best Place to Be (other than at the dinner table):
Sitting at her drum set.
Coffee/Tea Order:
Arnold Palmer