Sara W.
Creative Strategist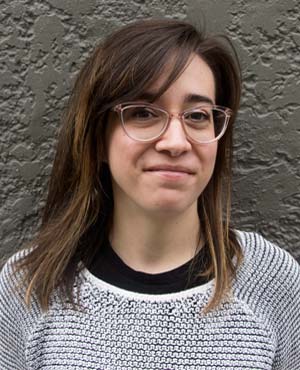 As our creative strategist, Sara sets the tone for our website, advertising, marketing materials, emails and more.
Born and raised in Michigan, Sara lived in New York City and Atlanta before moving to Seattle in 2014. "This is the first place other than home that has felt like home to me." She previously lived just a few blocks from Elliott Bay and loves being so close to the water. Last summer she bought a guidebook and spent her free time exploring Seattle's plethora of public parks.
Sara says that cooking for, feeding and serving people is her love language. That love led her to a work a wide variety of food-related jobs. While in high school, she was a hostess at Red Lobster; after graduating from college, she completed a short magazine internship where she wrote and published an article of original recipes. She has worked for a few local specialty and artisanal food companies, developed and taught cooking demos, and staffed farmers' market booths on weekends. She was the managing editor of a startup lifestyle website focusing on farmers and food politics, a barista at a gluten-free & vegan café, and spent two years working as a copywriter and content strategist for a specialty sea salt company. She even has her own food blog where she shares her own recipes, food stories and photography!
"My life is basically food," she says. "I legit even dream about food! Sometimes I come up with really kooky recipes, but some actually work. It's heartbreaking when I wake up and can't remember the recipe but only the feeling that it was really, really good."
Sara's also our resident gluten-free expert. Diagnosed with celiac disease in 2009, she says it completely changed everything she knew about food. "I had to start from scratch but it's really how I learned to cook."
Her big goal in life is to eat her way around the world. With a few cities and countries under her belt, she's got her sights set next on Austin, TX and anywhere (or perhaps everywhere) in Italy.
Favorite Dishes:
Anything with potatoes and snack dinner. "I pull a bunch of little bites together, like fruit and cheese, nuts, olives or pickles, veggies and hummus. It's so simple and satisfying!"
Favorite Fruit:
Grapefruit and avocadoes.
Favorite Vegetables:
Potatoes. "I am the Bubba Gump of potatoes!"
Won't Eat:
Gluten and tofu.
Food Pet Peeve:
When people order gluten-free who don't need to eat that way & annoy the staff. "Sometimes I end up with a waiter or chef who just doesn't believe me because they bent over backwards for someone who still ordered something that had gluten in it."
Most Unique Consumption:
A banana habanero curry cheesecake she once made. (It sounds weird, but she's assured us it was delicious.)
Collections:
Antique cameras, books and anything with owls.
Best Place to Be (other than at the dinner table):
On the water.
Not-to-miss restaurant in Seattle:
Fun Cooking Disaster:
"My dad got a new grill with an infrared burner. I tried to cook salmon (on tinfoil) on it. Everything just caught on fire."