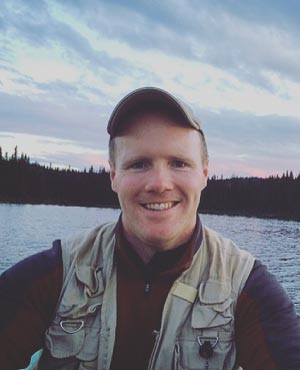 Ryan oversees everything visual at Marx Foods – web design & photography to packaging & our interior design. He navigates both freeform creative assignments and the intricacies of website coding with equal ease. He's also a great guy. We've been lucky to have him since day one.
Growing up in Kirkland, Washington, Ryan was lucky to have a mom who had a focus on the presentation of each meal. "In fact, if she served dinner and it was monochromatic, she'd apologize as she was putting the meal on the table," chuckled Ryan.
When the time came for Ryan to hit the real world, he headed south to McMinnville, Oregon to play football for Linfield College. When asked about making the decision as to where to go, Ryan replied, "I knew it was a good school, they offered me a nice scholarship and it was just the perfect distance from home to gain my independence." After graduating as a Fine Arts major, Ryan moved back to Washington and currently lives in Redmond.
Prior to joining the Marx Companies, Ryan spent three years designing for the NW region of global liquor companies including Johnnie Walker (Gold is his favorite), Hennessy and Smirnoff Vodka. Ryan knew he found his career niche, but wanted to move a notch up on the culinary scale (not to say he doesn't appreciate first-rate beverages), to specialty food.
Ryan is very talented when it comes to styling and photographing food. He appreciates the authenticity of the photo shoots he works on. Once finished taking glamour shots, everyone in the office clamors around to eat— as taste testing the products is one of the most important jobs at Marx Foods.
Ryan loves taking on the challenge of making food appear as delicious as possible on a computer screen, in a brochure or on point-of-sale materials.
In addition to being the father of Bryden Oliver, Ryan really enjoys his role at home as the primary cook for his busy wife Beth.
Besides his passion for cars and art, cooking is at the top of the list when it comes to hobbies. When asked about entertaining, Ryan wouldn't exactly call himself a modern day Elsa Maxwell, but he does enjoy hosting.
Besides spending his off time as a busy dad, Ryan loves snowboarding throughout the winter and playing golf and tennis when the sun's out. Family holiday traditions include eating Lutefisk once a year (which he is NOT a fan of) and Krumkake at Christmas.
Favorite foods:
Tomato Salad, Spanakopita, and Coconut Crème Brulee
Beloved vegetable:
Winter Squash roasted with butter and sage (pairs nicely with almost any meal).
Most unique consumption:
Kangaroo meat (but it's not one he'll add to his top 10 list).
Best place to be (other than at the dinner table):
He loves quiet time on the lake. Nothing better than a book, a good aged whiskey or rum, and the lapping of the waves.
Not-to-miss restaurants in Seattle:
Won't eat:
Soft Shell Crabs
Coffee order:
Double short, extra hot latte
Collection:
(although a small compilation as of now) antique cameras and Vintage Stereo equipment, he loves his Marantz Turntable.
Cooking disaster:
There is never a disaster, just the first try.