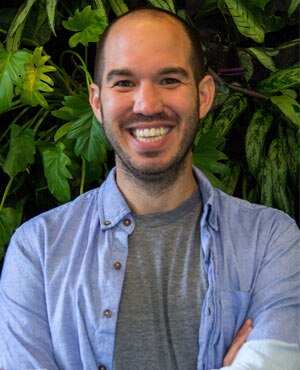 Reid helps create the look and feel of the Marx Companies' sites. He's also responsible for designing & building Marx Foods blog posts, editing photos & constructing really cool infographics & signage.
Reid spent most of his childhood in a small town outside of Chicago with his parents and older brother. When his father was not traveling for work the family would sit down together to enjoy beautifully cooked homemade meals & thus began Reid's love of food and cooking.
He was a very picky eater as a child, but as he grew older he began to become much more adventurous. Now he says he's constantly on the search for a "new taste" and will pretty much try anything.
Later in life, Reid received a B.S. degree from the University of Wisconsin-Madison. He also lived & worked at a back-country lodge at the southern terminus of the Appalachian Trail. Far removed from grocery stores, he began to teach himself how to make the foods he craved, from bagels and English muffins to raviolis & pizza. His job also involved working in the kitchen, where he helped prepare food for 40 guests a night.
In his free time Reid enjoys hiking, biking, skiing, baking, travel photography and watching Wisconsin football & basketball (On Wisconsin!). He hopes to someday bike across America, cultivate a vegetable garden, and run a sub-20 minute 5k.
Favorite Dishes:
A trio of Enchiladas (chicken, beef, cheese) topped with mole sauce. Also, gummy bears.
Won't eat:
Cilantro. Nope. No way. Won't Do it.
Fun Fact:
Has lived in both the State and the Country of Georgia.
Most unique consumption:
When he was in the Peace Corps his host family would on occasion serve him ram meat – leathery, dry, tough ram meat...
Best Place to Be (other than at the dinner table):
At a mountain lake in the Cascades or Olympics with a beer in hand & his wife / trusty hiking partner by his side
Not-to-miss restaurant in Seattle:
Le Pichet. If you go get a pichet of wine, the ½ roast chicken, a side of frites, & the baked rice pudding!
Fun cooking disaster story:
He was baking a cake for his wife's 30th birthday when his oven decided to go kaput late on a Friday night. Needless to say he immediately started Googling a fix and was led astray by the idea of microwaving the raw batter – take it from him, you do not want to microwave cake batter.