matthew j.
food writer & analyst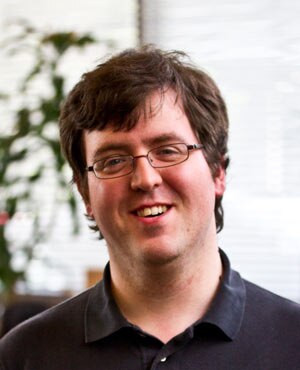 Almost every word you find on our site comes from Matthew's pen... er... keyboard. He's the one who answers when you AskMarxFoods, and the go to guy for detailed product and culinary questions, so in a way he's also part of our customer service team. In addition to writing, he's a great researcher. Justin refers to him as a walking, talking encyclopedia of our products - but Matthew always feels there's still so much more to learn!
Food and the written word have been two dominant influences in Matthew's life. At a young age his father introduced him to the wonders of books and his mother introduced him to the joys of cooking. Growing up he was fortunate enough to travel to many countries in Europe, further broadening his knowledge & appreciation of foreign cuisines and cultures.
After finishing high school, Matthew attended Willamette University in Salem, Oregon, graduating Cum Laude with a BA in English Literature and a minor in Asian Studies. Immediately after leaving school, he took a job as an assistant English teacher working for the city of Kawagoe in Japan.
Just down the street from the apartment where he lived alone was a small, family run soba restaurant. The owner and his wife have been running it for over twenty years, and even grow some of their own buckwheat for the noodles. Needless to say the food was excellent, and over his two years spent in Japan they became a sort of second family. They were responsible for introducing him to many dishes that foreign visitors to Japan don't usually get to try.
Actually, he has several second families in Japan. "There's something about me that seems to attract surrogate Japanese mothers," he says, "I've never really understood it."
After his time in Japan came to an end, he returned to the United States, moving to Los Angeles to begin the University of Southern California's Master of Professional Writing Program. While in school, he had a paid internship working in the editorial department of America Online's Cityguide family of web services writing and editing web copy as well as publishing it online. After finishing all his required classes, Matthew, in a fit of madness, decided to attend culinary classes at the California School of Culinary Arts (Le Cordon Bleu) in Pasadena while simultaneously finishing the novel required for his MPW degree.
Now happily back in Washington State with his master's degree, Matthew is delighted to have found a job combining both his love of writing and his love of food. He lives in Renton with his wife Diana and a pair of miniature dachshunds: Buddy & Mikey.
Favorite Foods:
Hand-made soba, carrot cake, anything made with a real vanilla bean.
Cooking Disaster:
A beautiful French lemon tart... minus the sugar... let's just say tart was the right word...
Not-to-Miss Restaurants in Seattle:
Culinary School Nightmare:
Petit fours, petit fours, PETIT FOURS!
Collections:
Japanese art, hobby board games, and cookbooks.
Won't Eat:
Very few things, but one of them is uni.
Coffee/Tea Order:
Top notch whole leaf black tea. No milk or sugar.