KATY P.
Operations Systems Manager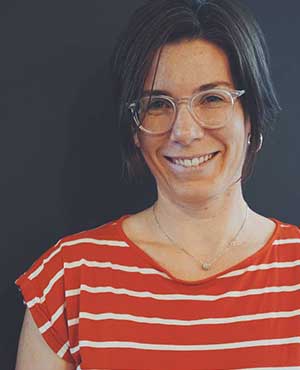 Katy not only keeps the rest of the staff entertained with her humor and crazy antics, she also runs the show. The person employed in the Seattle office the longest (other than Justin), Katy has been present every step of the way in the conception of Marx Foods.
While attending the University of Washington, Katy began working for the Marx Companies as a researcher. Upon graduating with a Bachelor's degree in Sociology, it was natural for her to start working for Marx Foods full time. Now the General Manager of MarxFoods.com, Katy is responsible for running the day to day operation of the online store.
She discovered her love for food while working as a server for a small European restaurant. The chef and owner, although a little nuts, would let Katy back in the kitchen and taught her how to cook. Apparently the owner was pleased with her cooking skills because after only a few weeks, Katy was doing double-duty, as a server and cook.
Now she loves cooking and hosting small dinner parties. Her favorite thing to make is comfort food (the kind that makes you sleepy and content). Her favorite foods to eat are beans & rice and burritos, which she says are "like having a delicious Mexican vacation wrapped in a warm tortilla."
Her most memorable eating experience? Her first oyster. A giant live Pacific oyster. It was peer pressure from the rest of the staff, and after debating if she should chew or simply swallow, she finally got it down. Katy is still bitter they didn't start her out with a much smaller Virginica oyster!
Katy lives with her husband Geoff and her sons Corbin & Finn. When she manages to find spare time she loves sewing.
Favorite Fruit:
Avocados
Collections:
Pretty fabric & yarn
Favorite Taco Truck:
El Camion
One thing she wishes she could like, but just doesn't:
Olives
Favorite Coffee/Tea:
Peppermint tea
Cooking disaster:
Tried to make a Dutch baby without eggs. It didn't work.
The Katy Interview
Kick back and relax