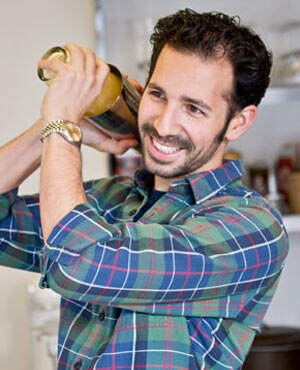 Huckleberries? Yuzu Juice? Shagbark Syrup? Shishito Peppers? For cutting-edge cocktails made with these and other daunting ingredients, we turn to Jonny, who's always ready to step up to the challenge.
Jonny has always loved food – growing up in New York his mother would almost always cook dinner. Holidays meant his aunt's mean matzo ball soup, and his other favorite foods ranged from pizza to Chinese food. It wasn't until he moved out to Seattle in 2010 that he really began to appreciate everything food could be.
His time working as an "expo" and bar back at Bastille (one of Seattle's better French restaurants) and hanging out with his step-brother Justin taught him a lot about sourcing, quality produce, and cooking methods. After a year at Bastille, Jonny moved on to the owners' new Mexican restaurant – Poquitos, where he works as a server and bartender.
Though he only became a professional bartender in 2011, Jonny has already been recognized as a mixology rising star. He's already won the 2012 Northwest Tequila Festival's Cocktail Competition, had his work featured as "Cocktail of the Week" on Food Republic, Marcus Samuelsson's online food journal, and added an original cocktail to the Poquitos menu. He also works as co-bar manager and cocktail designer for 1927 Events – an event space in Seattle.
His dream is to eventually open his own restaurant and music venue.
In his free time, Jonny goes hiking in the beautiful mountains of the Pacific Northwest, roots for the New York Giants ("Let's go big blue!!"), and loves to read. He says he's really come to appreciate Seattle's coffee shop culture "there's nothing like sippin' on a cup of coffee and reading a great book before heading into a long shift at work."
He lives in Capitol Hill.
Favorite Dishes:
Homemade Butternut Squash Risotto, Quinn's Burger, Poquito's Al Pastor Tacos and Grilled Corn, Skillet's Fried Chicken, and Paseo's Sandwiches..... and many, many more. It's hard to have a bad dish these days.
Favorite Fruit:
Raspberries
Favorite Vegetable:
Onions (they're a staple in almost everything he cooks)
Most unique consumption:
Alligator down at the New Orleans Jazz Fest.
Best Place to Be (other than at the dinner table):
"The Lake" ... in Great Barrington, Massachusetts (The Berkshires)
Not-to-miss restaurant in Seattle:
Fun cooking disaster story:
"My girlfriend and I tried to make gnocchi from scratch and it was a total disaster! We were following multiple recipes instead of sticking to just one. I don't even think we even had the proper kitchen equipment either."