JAMES L. & CHRIS T.
Sommeliers & Chef Emeritus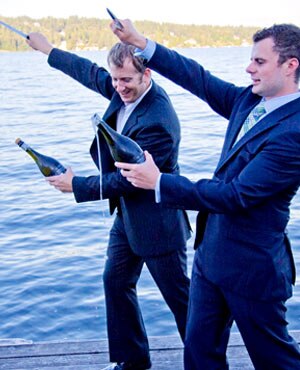 James and Chris are professional sommeliers and wine & service directors at some of Seattle's finest restaurants. Both hold high certifications with the Court of Master Sommeliers – James is an Advanced Sommelier while Chris is one of only a few Master Sommeliers in the world. When they are not traveling the world, expanding their knowledge of wine and food, or consulting with local restaurants, they like to help us here at Marx Foods.
Chris, our Chef Emeritus, is responsible for the majority of recipes and associated wine pairings published on the Marx Foods blog from 2008-2011. He is on sabbatical from the position at the moment, but we are expecting both him and James to again act as a significant part of the team in developing our planned wine program in the future.
Chris studied at the Culinary Institute of America and is an alumnus to the International Sommelier Guild. His resume contains a who's who of legendary Seattle restaurants: the Herbfarm, Canlis, RN74, Matt's in the Market, and Crush.
James received a Bachelor of Science and Economics from Villanova University as well as a Master of Fine Arts at the University of Washington. He too is an alumnus to the International Sommelier Guild and has worked at some of Seattle's finest restaurants, including Café Champagne, Nell's, and Monsoon. He currently serves as General Manager & Wine Director for Bastille Café & Bar. His wife Becca is responsible for designing and maintaining the "jungle" of extensive plant life that brightens the Marx Foods office.