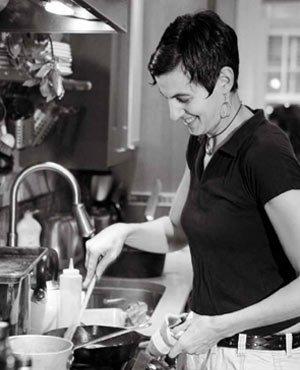 After stints at some of Washington's finest restaurants - La Medusa, La Spiga, and 3 years at the legendary Herbfarm, Becky decided to switch gears and work independently as a chef for hire.
Becky has an impressive array of projects going on - she currently serves as an adjunct professor in Bastyr University's culinary/nutrition department, teaches cooking classes, caters, and writes a food blog, cookbooks, and an award-nominated culinary humor column for Edible Seattle Magazine.
Becky has two cookbooks to her name. The Washington Local & Seasonal Cookbook (co-authored in 2008) and 2011's Good Fish – an IACP book award finalist and NPR "notable read". All the recipes in Good Fish focus on sustainable seafood varieties and are presented with wine pairings courtesy of her wife, Sommelier April Pogue. She's working on her third cookbook now, again with April, on wild and cultivated mushrooms.
Beyond cooking professionally, she also donates her time, cookbooks and expertise to raise money for a variety of local charities and nonprofits.
The Monterey Bay Aquarium – an international authority on seafood sustainability – awarded Becky their Seafood Ambassador Award in 2012 for her efforts to promote ocean conservation and sustainable eating.
Favorite Dishes:
Washington albacore hand roll, Northern Thai Khao Soi noodles, Bahn xeo (Vietnamese crepes), duck or mushroom anything.
Favorite Fruit:
I can't just pick one: Mango, Mangosteen, Peach or Raspberry.
Wont Eat:
Brains
Food Pet Peeves:
When someone is unwilling to try something new.
Most unique consumption:
Age 10: the middles of an entire bag of Double-Stuff Oreo cookies, rolled into a big ball, cut into half and shared with my brother.
Best Place to Be (other than at the dinner table):
Under the dinner table.
Not-to-miss restaurant in Seattle: