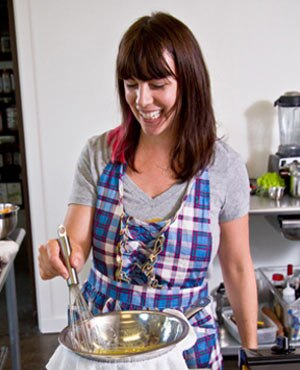 Autumn is our delicious & delightful executive chef. Her most recent job was as chef de cuisine at Crush, one of Seattle's premier fine dining establishments. She has also worked at Café De Paris, The Pink Door, and Barocho.
She starred on the 2005 PBS reality show "Cooking Under Fire" - a coast to coast cooking competition for chefs overseen by Ming Tsai, Todd English and Michael Ruhlman. She placed third in the contest and Todd English said of her performance, "Autumn's food was the best, but she was too nice for New York!"
Autumn grew up in the tiny town of Custer, Washington and learned how food was produced at an early age. Her home was on ten acres with livestock and an extensive garden. Her grandparents were commercial fishermen who dealt in Dungeness crab, shrimp, cod, salmon and rock fish.
As a child she had the opportunity to spend three months in Europe, developing a love for the continent and its cuisines that persists to this day. When the time came to go to college, she attended Edmonds Community College's Culinary Arts Program, graduating as Student of the Year.
Autumn lives in Madrona with her husband Paul and daughters Bell & Sophia. When not cooking in the Marx Foods kitchen, she splits her time between being a mom, working in her vegetable & herb garden & teaching cooking classes.
Favorite Dishes:
2 eggs over easy, chicken liver pate & almost any food that is cooked with integrity and seasoned correctly!
Favorite Fruit:
Any local fruit while lying on the beach in Thailand!
Food Pet Peeves:
Watching someone season their food before tasting.
Most unique consumption:
Duck testicles ("In the industry we like to call them "white kidneys"!")
Collection:
Wind-up plastic teeth (about 15 pairs!)
Best Place to Be:
With her husband & her daughters in the south of France, eating mussels and watching the boats go by...
Not-to-miss restaurant in Seattle:
Crush (but she admits she may be biased)